Create Exponential Increase in Sales Productivity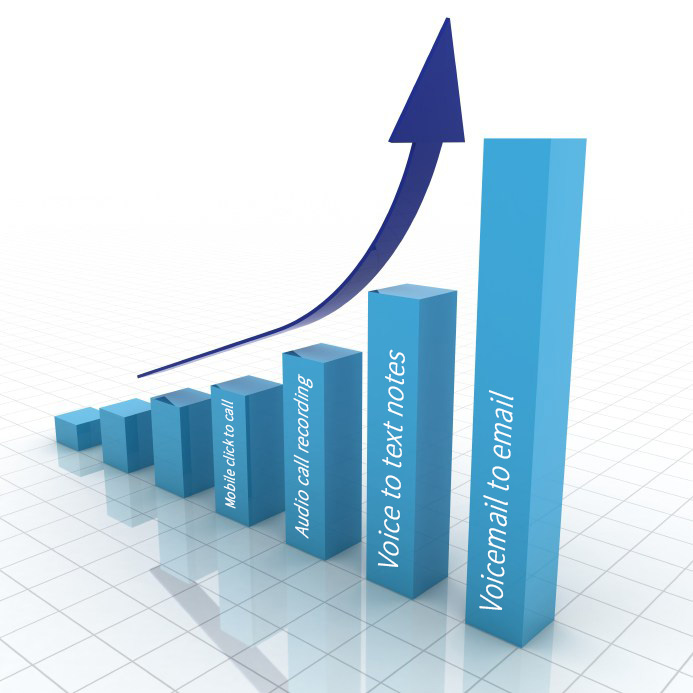 Softphone technology transforms sales productivity with new mobile and automation features.
In 2013
, CRM systems were said to increase sales by 29%, productivity by 34% and forecasting accuracy by 43%. Companies were realizing benefits from CRM implementation, yet sales people were still tethered to desk phones and mobile phones that were not connected to the system. Valuable and expensive sales hours were being squandered as sales people worked to accurately locate leads, take notes during sales calls, then entering call notes and data into the system(1).
Leap to 2017: Salesforce CRM use is more critical than ever and there is no margin for wasted time or errors. With softphone application technology the sales person is now able to move between desktop, tablet, mobile and back seamlessly while being totally integrated with Salesforce. Sales people have fast, accurate lead location with click-to-call; sales calls, conference calls and meetings can be recorded and the data immediately entered into Salesforce; and sales people use voice to text notes to input accurate, timely data for better forecasting and sales reporting.
How does Softphone technology provide critical productivity and a customer focused company?
Click to Call: Sales people accurately contact leads as quick as a click, from any phone number field in any Salesforce object. SDR efficiency is increased 20% over manual dialing.
Audio Call Recording: Call recording ensures call note accuracy allowing sales people to focus on the customer regarding an order, not on note taking while the customer is talking.
Mobile Post Call Voice-to-Text Note: Immediate and accurate data entered directly into the associated Salesforce record with both call metrics and text from dictated call notes.
Send and Receive SMS: All from within Salesforce capitalizing on stronger and faster interaction with Leads and Contacts capturing all communications in the CRM through a native user interface and familiar experience completely hosted within the Salesforce org.
One of the most comprehensive softphone applications for Salesforce is CloudCaller.io.
"Giving my field reps the ability to use CloudCaller.io on their Mobile phones and dictate voice-to-text call notes means they are more effective in annotating calls and I have better reporting!" VP Sales, Global Software Developer.
To take advantage of the vital productivity, accuracy and speed of softphone technology for your company, contact CloudCaller.io
(1) Source of statistics: Salesforce